Brake Pads | Fluids | Pedals | Replacement & Repair | Brake Services
Brake Repair and Replacement in San Antonio
We have some of the best mechanics in San Antonio on staff at Texas Elite Auto & Diesel, long-time automotive technicians who are ASE certified and have decades of auto repair experience between them.
One of the biggest portions of our San Antonio auto repair service is repairing and replacing brakes. We do hundreds of brake repair jobs every year and we welcome the opportunity to earn your business.
Stop into our San Antonio, TX repair shop for a brake check to make certain that the brakes on your vehicle are performing as they should be. Brake issues aren't something you want to let go unchecked, as faulty brake pads or other abnormalities with your brakes could easily lead to more complex problems down the road. Protect yourself and your family today by checking your brakes, if for no other reason than for the peace of mind it will give you. And if you do need brake services on your car, Texas Elite Auto & Diesel will prepare a comprehensive and fair estimate to fix your brake problems at a time that's convenient to you.
How much does brake repair cost in San Antonio?
As you can probably guess, the cost to repair your brakes depends on a number of different factors like what exactly needs to be replaced, how long it's going to take and how costly the parts are.
But we can promise that you'll have a complete brake repair estimate in hand before we start any work on your vehicle. And if there are any unforeseen issues that arise during the brake repair service, you'll be contacted for approval before the work begins.
Our on-site mechanics are ASE certified and we have an excellent reputation in the San Antonio, TX area, and that doesn't happen by accident. We strive for expert customer care and transparency at all times.
So if you need brake service or repair, you won't find a better auto repair in San Antonio, Texas. Be sure to trust your car's brakes to the best in the business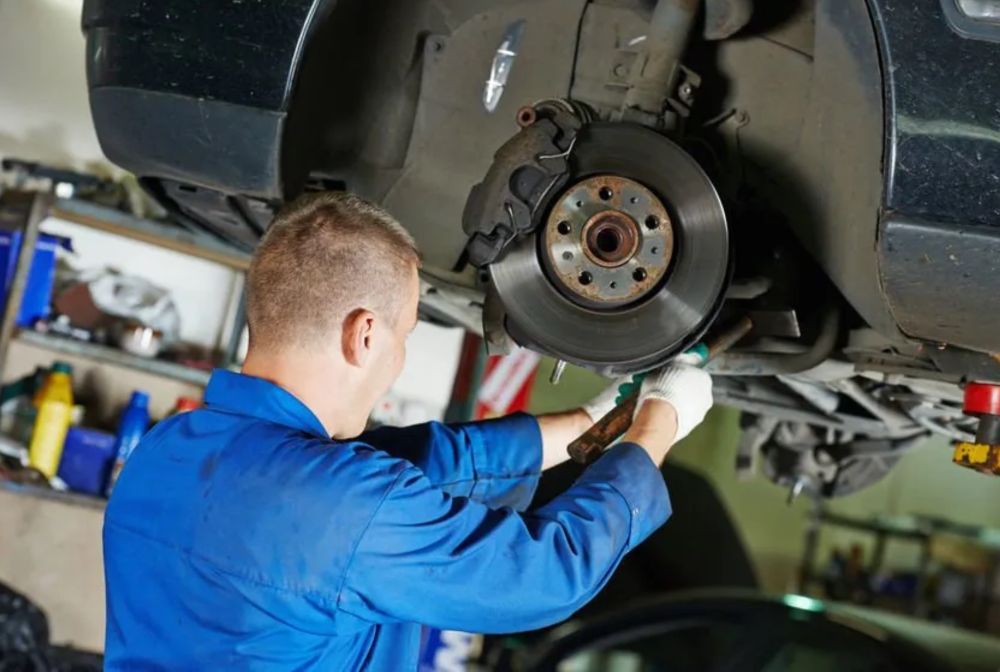 What do you inspect when you do a brake service check on a vehicle?
When we perform a brake checkup at Texas Elite Auto & Diesel, we do so in a comprehensive and professional manner. We do this every single time, with no exceptions!
Our brake service checks include the following:
We begin by taking your car for a short drive, so we can ascertain what, if any, problems you may be having with your brakes. We're on the lookout for any sounds or smells that seem unusual in any way, which gives us a better idea of what to look for when we return to our San Antonio, TX repair shop.
After we return from the test drive, we'll pop open the hood and take a look at your brakes, specifically components like the master cylinder and the brake lines, and inspect the area for any sign of damage or fluid leaks.
Our technicians will next perform a brake fluid test on your car to determine what kind of shape the fluids are in. We want to make sure the brake fluid isn't contaminated by other substances and that the levels are remaining at adequate levels.
We'll now put your car on a lift so we can examine your brakes from below. In this part of the process, we check for things like physical damage and leaks, while also inspecting the brake hoses, the wheel cylinders and the mounting brackets.
We next remove the car's wheels so we can inspect the hub and lug nut holes for any damage that many have occurred or is occurring. We'll also check components of your brakes like the brake rotors, the caliper assemblies and more.
Lastly, our technicians will remove the rear brake drums and inspect them for things like cracks and hard spots.
What are some of the most common types of brake repair issues?
A car's brakes have a number of working parts and there are obviously many things that may need to be addressed, from brake pad replacement to installing completely new brakes.

But some of the more common brake repair issues we see at Texas Elite Auto & Diesel include: